Gmail interface is so simple. We can a navigate to any label easily. However, its interface was simple too. From past few years, while other Google products were getting the new interface, Gmail was still in the old interface. Now Gmail user has a chance to try out the new Gmail inbox with a few simple clicks. If you want to try the redesign Gmail inbox, we'll guide you through how to get it.
Activate the new Gmail
The steps to upgrading the new version of Gmail are pretty simple. First, Go to your Gmail inbox, look towards the top right corner of the window, and click on the gear icon. In the drop-down menu, you will see that the first button is new. Press the button that says "Try the new Gmail."
Let's go deep into this new Gmail.
The new Gmail redesign brings a few new features and a lot more color to your inbox. Among those features are some excellent quality-of-life changes.
Though detailed, one of the design changes is simply to make the whole page look more uniform in design guidelines. The search bar at the top of your inbox no longer looks out of place, as it now has a transparency that shows through to whatever background you have set.
The Primary, Social, Updates, and Promotions tab at the top of your inbox will now correspond neatly to the list of emails. Where your emails all remain, Google has added more color and easy access to attachments. Unread emails have a brighter highlight than before, and selected emails will now be highlighted blue. In the default view, emails with attachments will actually show what those attachments are, and you can open them straight from your inbox without opening into the email.
Google has also added icons for the labels for different email types (Inbox, Starred, Important, Sent, etc). There's even a new type: Snoozed. We'll get into that next.
New Gmail buttons
It's not just designed that has changed, as Google has added useful tools and some handy tweaks to make using Gmail better.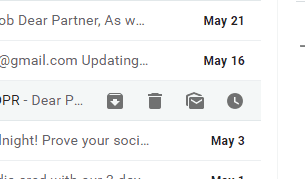 If you hover your mouse over an email, the four buttons will show up on the right side of the email. This will make interacting with items in your inbox much faster, as you don't need to select the email and then move your mouse to the top of the screen where these buttons used to reside. Bulk actions are still available by selecting multiple emails and using the top buttons though. There's a new Snooze button to snooze emails, so you'll be notified at a later time when you can reply. and it resides in a handy place along with buttons for Archive, Deletes, and Mark as unread/Mark as read. The other new buttons are on the right side of the new Gmail inbox and offer quick access to your Google Calendar, Google Keep, and Tasks. More tools can be added there installing Add-on from the marketplace.