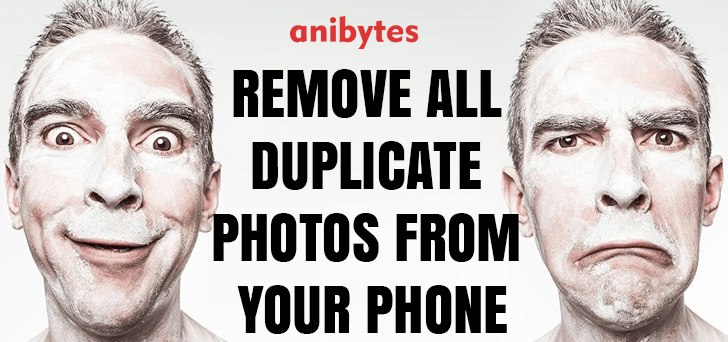 Duplicate images are a headache, they are just multiple versions of the same file in a same/different folder. They consume extra storage in your phone or tablet. I've tested several apps that claim to delete duplicate photos on your phone and tablet, only to find they don't live up to that promise.
Remove duplicate photos from your phone :
Free app Remo Duplicate Photos Remover, on the other hand, not only found, all duplicate photos on our device, it also identified photos that looked similar. You can then sort these photos by date or size. The app tells you how much space you can recover by deleting them, and gives you the option to delete all duplicates in one go.
•  Install the Remo Duplicate Photos Remover app on your Android (here) or iOS (here) phone or tablet, then open it.
• Tap Allow to let it access your device's photos. Tap on the scan and the app will begin scanning all photos on your device (this can take a few minutes).
•  After the scan, you'll see the number of duplicate photos you have and how much space they take up in a pop-up message. Tap OK. You'll now see two tabs Exact and Similar. Both tabs work in the same way. The Exact tab contains identical photos, while the similar tab contains photos that look the same, but may have different borders, filters or effects, or similar image properties. I'll show you how to remove duplicate photos from the Exact tab, but the process also works for the Similar tab. You can tap on any photo to see its file size, image resolution, a date was taken and location on your PC.
•  Tapping the box beside a group selects all the photos in it except the first one. You'll see how much memory you can recover by deleting the ticked duplicates below.If you have lots of sets of duplicates, tap the three dots at the top right. Here, you'll see options to sort your photos by date or size. Tap Select All to tick all boxes in one go. Scroll down the list to check that all the photos you want to retain are unticked. When you're happy, tap the bin icon to delete all ticked photos, then tap Yes/Delete to confirm. You'll see a summary of how many photos have been deleted and how much storage space you've recovered. Tap OK, then tap the Similar tab and repeat this process to delete similar-looking photos.
So, what do you think? Share their post if this helps you. Feel free to discuss your thoughts in the comments and don't forget to subscribe us. 🙂